Brand story
In the Murakami world, its audio equipment is always on.
Murakami in his work, even supporting figures, he did not forget to weave love for them.
In Murakami spring love story of the tree where we comprehend the essence, with a new brand, "Murakami Spring" presented in front of you.
Music, love laid Murakami Haruki is "urban literature" in the mainstream.
Fashion, the connotation of the achievements of "Murakami Spring" has become a fashion leader.
Want to extend the memory of youth, want to write youth want fashion into life, we have prepared a new movement!
Age positioning is based on the age of 25 --- 35-year-old advocating fashion, fashion, leisure, elegant taste, extraordinary refined, the pursuit of quality of life for the perfect woman as the service object.
Design concept: taste Murakami sentiment fashion "CSSPRING" brand Advocates elegant intellectual, romantic wisdom of life philosophy. With Taiwan, Hong Kong, South Korea, a number of designers planning and design, to help women elegant expression of the power of wisdom.
"CSSPRING" combines the international attitude of life and fashion, consistent design concept, with high-quality environmental fabrics coupled with the fine personal tailoring, with reference to the latest global trend, while retaining the elegant, stylish, refined international style and blend Implicit fine Oriental features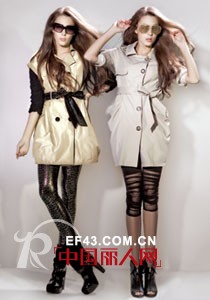 Product Structure Positioning:
Spring Size: 100 ~ 140 Summer Amount: 120 ~ 200 Fall Amount: 100 ~ 140 Winter Amount: 120 ~ 200 Each Color: 4 ~ 6 colors Product Category: Shirts, T-shirts, Shirts, jeans, tops, single skirts, dresses, trousers windbreaker, cotton jacket, coat, down jacket, fur and so on more than 10 categories.
Product price positioning:
Spring and summer 139 ~ 499 yuan / piece, the main retail price: 159 to 400 yuan;
Autumn and winter 199 ~ 2699 yuan / piece, the main retail price: 300 to 600 yuan;
The jacket is made from the softest sheepskin, giving you a beautiful outer finish, which has been dyed to produce a lovely, two-tone shaded effect. The jacket is rust coloured in appearance, the slightly darker shade giving real elegance to your outfit through the autumn and winter, whether you're smart or casual. The inside of the jacket is lined with luxurious sheep`s wool throughout, giving a luxurious and cosy feeling.As well as the longer length, the Ella jacket has all the classic styling you would expect from a flying jacket. It has an attractive brass zip, set asymmetrically, which gives you options of how to wear the jacket – fully open, partially zipped for an attractive v-neck style, or fully fastened for extra warmth on those very cold days. There are two easy access front pockets, and an inside zipped front pocket so you can carry your valuables with you safely. The cuffs can be turned back, revealing the luxurious wool inner.
Fur Lining Leather Coat,Black Fur Lining Leather Coat,Women Fur Lining Leather Coat,Men Fur Lining Leather Coat
XinJi YongJia Leather Co.,LTD , http://www.fineleatherfur.com