Shishi's "Fashion City," the gold medal will be added under the weight of a weight "weight!" Yesterday, the reporter learned from relevant parties in Shishi City that Shishi City is planning to develop Shishi Textile and Garment Industry Development Base (also known as Shishi SME Entrepreneurial Base) covering an area of ​​nearly 5,000 mu. The first phase of the project has been formally identified as provincial key. The project, the start-up area will be groundbreaking before the April 18th Haibo Expo.

It is understood that Shishi Textile and Apparel Industry Development Base is located on both sides of Gongfu Road, including the former village of Gangshang Town, Liancun Village, Shanbian Village and Houganshan Village of Yongning Town, and Shishi City Taiwan Investment Park. Contiguous, planning a total area of ​​4935 acres of land, a total construction area of ​​5.7 million square meters, an estimated investment of 11.6 billion yuan. The project is planned to be constructed in three phases. Among them, the first phase of the project to be started before this year's Haibo will be planned for 1365 acres of land (including the renovation of Gangshang Town Gangqian Village), a building area of ​​1.6 million square meters, and an investment of about 3.3 billion yuan.

According to reports, the decision of the municipal party committee and the municipal government to build Shishi Textile and Apparel Industry Development Base is mainly due to two major considerations: First, it provides a platform and carrier for the sound development of SMEs. At present, although Shishi City has Lingxiu Pioneering Park and Baogai Science and Technology Park and other textile and clothing industrial parks, these parks have limited body. A large number of small and medium-sized textile and garment enterprises are scattered in urban and rural areas, and it is difficult to form industrial agglomeration effects, and they are easily affected by various external factors such as the surrounding environment. It is difficult for enterprises to focus on R&D and production, and it is difficult to obtain high-quality development. Second, to create conditions for the implementation of urban industry "retreat two into three." According to the survey, there are about 2,000 small, medium and micro clothing enterprises in Shishi City distributing the central and urban areas. These enterprises not only face many unfavorable factors in their own development, but also cause mixed urban industrial, commercial, and residential areas, affecting the overall function and grade of the city. Promote. Corresponding to this, Shishi Textile and Apparel Industry Development Base to be constructed soon will have two main functions: to speed up the "second pioneering" of private enterprises and improve the development quality of small and medium-sized enterprises; to promote the "backwards and downwards" and to promote urban industries Construction quality.

According to the functional orientation, the project will be planned and constructed into a relatively independent function such as production, warehousing, logistics, residence, office, commerce, shopping, leisure, entertainment, and catering, and the public facilities such as housing, schooling, and medical treatment for employees and their dependent children. Relatively perfect, unified green property management of modern ecological textile industrial park.

In order to do a good job of this project, Shishi City set up Shishi Textile and Apparel Industry Development Base and Shishi Small and Medium-sized Enterprises Entrepreneurship Base Construction Command. Under the command, the headquarters set up an office to transfer the personnel of related units. At present, the project has completed the task of expropriation of 2,250 acres of land. The detailed construction and detailed regulations for the first phase of the project have entered a deepening and perfecting phase, and detailed specifications for the construction of the second phase are being prepared for preparation. Other preparatory work is also progressing in an orderly manner.
Established in 1988, and put integrity, pragmatic, win-win as principle to guide the products` research and development, production and sales which enjoys high reputation all over the world.
All kinds of pockect interlining ,yarn count 45s,and construction 88x60,96x72,110x76 . Composition 100% polyester and 80% polyester +20% cotton .Color can do white ,offwhite ,black ,charcoal and so on .Touch can do soft ,medium ,and hard .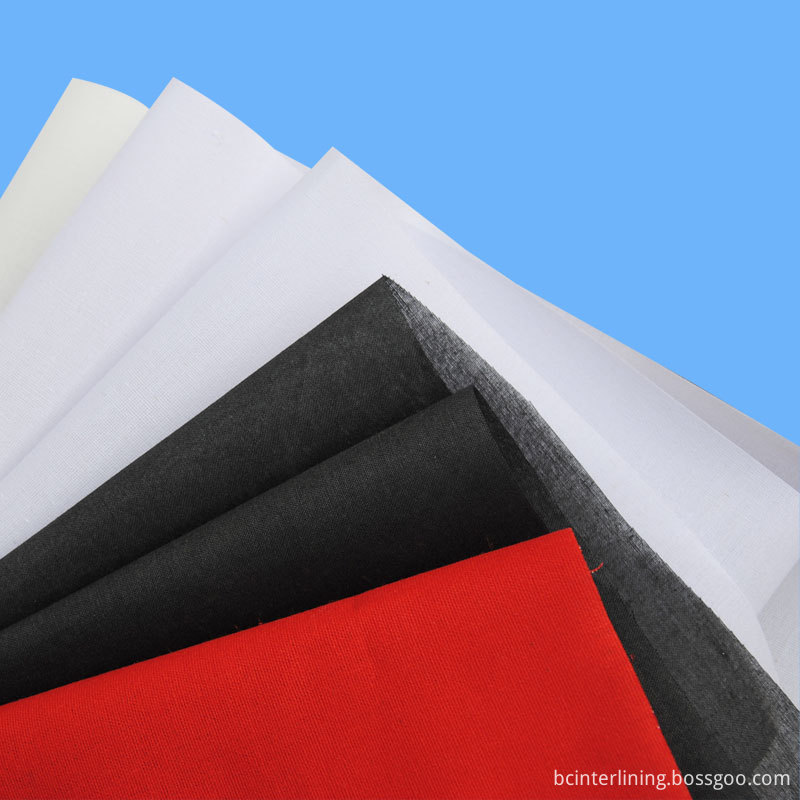 Pocket Interlining,White Pocket Interlining,Hard Handfeel Pocket Interlining,Black Pocket Interlining
Baoding Garment Interlining Factory , http://www.bcinterlining.com